DSM Exhibits at EPTech's National Electronics Tradeshow
On October 19th, Electronic Products & Technology Magazine (EP&T) held their annual trade-show, showcasing innovative products from the manufacturing industry across the country. As Canada's leading electronics market resource, EP&T's national event offered valuable information for the EMS industry, engineers, and designers of new products & technology.
DSM was honored to participate as an exhibitor once again. Whether audiences were looking to learn about how we use robotics in our manufacturing facilities, industries we build for such as automotive and aerospace, or to simply to pick up some cool swag, we were ready to answer all our visitors' electronics manufacturing questions.
With our bright booth setup featuring our brand refresh, DSM's President Duane Macauley and Marketing Specialist Heather Patrao-Rasiah promoted DSM's activities and services. Our rolling video presentation of footage showcasing our facility and robotics invited lots of visitors to come up and start conversations (in addition to our giveaways and prize of free AirPods)!
Participating in EPTech 2022 was a great opportunity to network with others in the manufacturing industry and continue our ongoing dialogue about our business and impact. Another fun part of EPTech was seeing what other solutions are hitting the market and getting the opportunity to say hello to some of our partners. We look forward to continuing to be part of this great initiative in the future.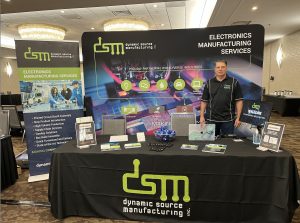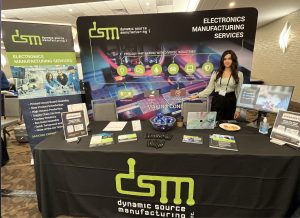 ---
 Dynamic Source Manufacturing Inc. (DSM) is an Electronics Manufacturing Services company, supporting global businesses by bringing their products to market effectively and efficiently for more than 20 years. With manufacturing facilities in Canada and the USA, our customers count on us to bring their products to market quickly, efficiently, and with peace of mind, collaborating with you on the entire production cycle. Our success has been built on trust, integrity, and delivering our customers' unique innovative requirements.
We are dedicated to serving diverse industries such as automotive, communications, energy, and security & defence. Our full suite of services include quickturn-prototyping, volume manufacturing, testing, component sourcing, and box build assembly. Along with our ISO 9001:2015 certification, we are certified through Canada's Controlled Goods Program and the USA's International Traffic in Arms Regulations.
We are proud to be committed to our Lean philosophy and our organizational excellence program, holding ourselves to a high standard of continuous improvement to provide you with an exceptional customer experience.