Making Connections That Last
Your Lifetime Electronics Manufacturing
Services Provider
At Dynamic Source Manufacturing (DSM), we prioritize the connectedness between our company and yours. It's about trust, integrity, and honoring lasting partnerships by delivering on our promise. For over 20 years, our global customers have counted on us as their contract manufacturer to bring their products to market quickly, efficiently, with the highest quality, and with peace of mind.
Customer Testimonials
Cransmart has been working closely with DSM in Arizona since 2016.  As a key supplier of the electronics for our crane safety systems, we value the quality and flexibility DSM provides. Our similar "Customer First" business philosophy aligns with the long-term support for our customers.  We can trust them to make sure our commitments are met, and that any changes that come up are always efficiently and expertly handled.
Tom B
President at Cranesmart Systems Inc.
As a High-End Audio Entertainment company, we have enjoyed a very successful partnership with DSM in Arizona for over 6 years. We collaborated on the design and launch of 3 new systems from prototyping through to production, all assembled in their Arizona factory with excellent quality. DSM has an outstanding ability to react to market conditions such as part allocations and component lead times. Their support throughout the entire product development process was what we were looking for and their Lean philosophy aligns with ours. Shoutout especially to the Program Manager, Teresa, for her amazing service! Overall, we are impressed by how flexible the DSM team is to work with, how quickly they respond, and their consistent on-time delivery. We continue to have full confidence in DSM's ability to meet our manufacturing needs. 
Robert N
General Manager, Emotiva Audio Corp
DSM has been building Vecima's hardware products with the high quality we demand for over 20 years. Our customers are large-scale cable operators and Vecima's products are integrated into their networks. Providing video and data to customers around the world demands high reliability products. Our customers demand this of us and in turn we demand that of our supply chain partners. DSM has been a consistently reliable partner to Vecima in this regard. They consistently deliver on time, with high quality products. They are also responsive to the changes that come with being in a leading edge technology industry where the demands for evolutionary products is a constant. Vecima continues to position itself as a front runner in the supply of innovative products to the markets it serves. The DSM relationship continues to be relied on as a supply chain partner Vecima can count on to meet these challenges.
Mike P
Supply Chain Director at Vecima Networks Inc.
They consistently deliver on time, are very responsive to our evolving needs, communicate proactively, and have excellent build quality. We have worked together to create customized assembly processes and detailed work instructions; optimizing both the timeliness and quality of our builds.
Steve M
CEO at Aware 360
Proudly Partnering with the Following Industries
What We Do
Products & Services
Launching a new innovation can be overwhelming. Our team has the expertise, experience, and technology to get you from concept to production to after-market. As an Electronics Manufacturing Services provider, we work closely with our customers to optimize the product design for for your manufacturing and supply chain needs to save you time, funds, and ensure exceptionally high quality by bringing you a unique and professional product.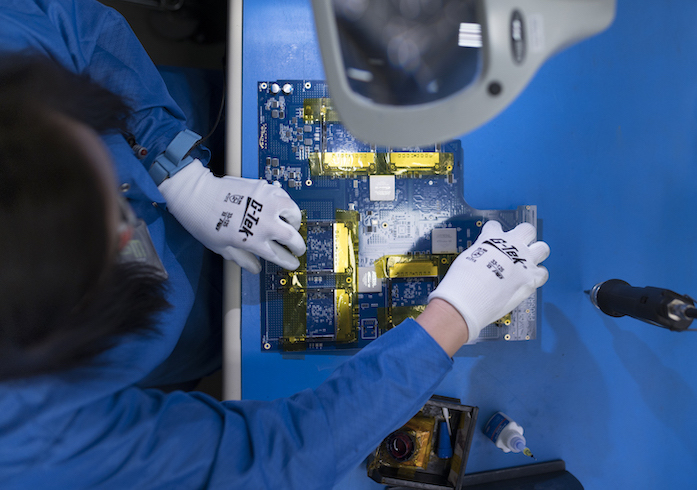 Frequently Asked Questions
Can you meet our requirements for volume, delivery, and lead times?
Leveraging Industry 4.0, automation, lean philosophies, and customer dedicated cross-departmental teams, we can tailor our supply chain & manufacturing strategies to align with our customers requirements.
Can you handle the complexity of our order?
Yes, we can. Our systems allow us to produce high part number (300+ items) and high placement count (5000+ placement) assemblies including multi-level Bills of Material.
What are your customer service practices?
During our customer on-boarding process, we assign a dedicated Program Manager who acts internally on our customer's behalf to ensure all requirements & inquiries are dealt with in a timely and efficient manner.  We are an extension of your engineering, supply chain, and manufacturing departments.
What are your RFQ (Request for Quote) requirements?
In order to begin the quoting process, we require the following items: a Bill of Materials, assembly information, circuit board information, build quantity and delivery requirements, test requirements, and workmanship standards.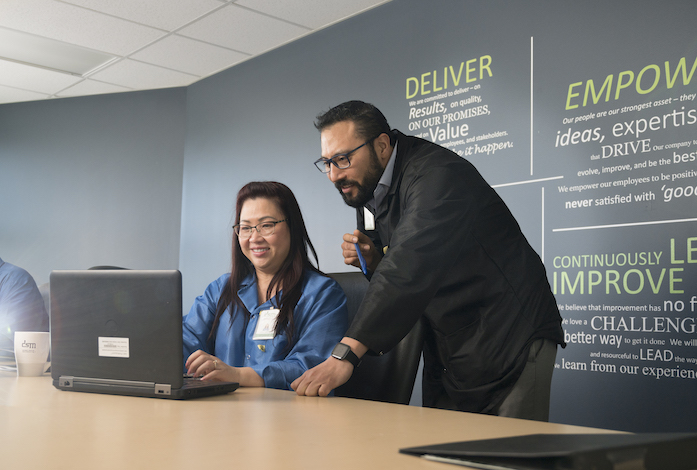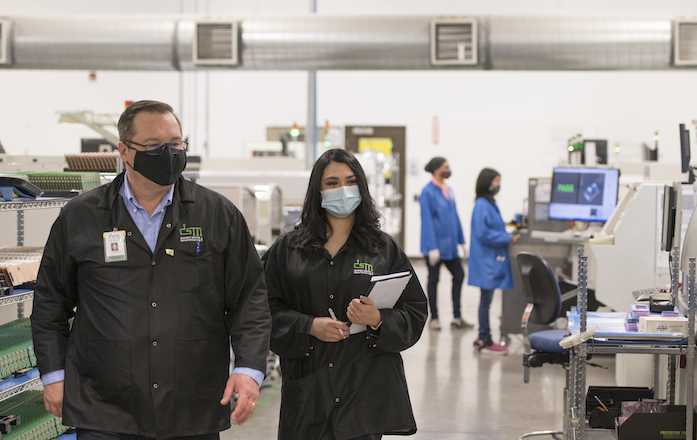 Finding the right electronics manufacturing services provider is not an easy task. Your personal reputation is at stake, not to mention your company's bottom line.
We take care of the entire process from concept to after-market, guiding you every step of the way. We evolve with you as your business grows, accommodating your volume of products and supply chain needs no matter how complex.
Through our contract manufacturing facilities in Canada and the USA, we bring 20 years of experience to each customer to ensure we serve you in a way that goes above and beyond.
Our Services
We utilize advanced robotics with Six Sigma and lean manufacturing processes